Learn More
The Student Information System (SIS) at student.msu.edu is now the primary location for student activities. StuInfo will continue to be available to view historical billing and financial data, but will no longer be updated with new information.
Here's what student functions are available in SIS: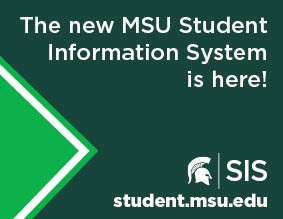 As of June 2021, all newly issued Student ID cards will include a Student ID number rather than an APID. Students with a Student ID card issued with an APID can convert their APID to a Student ID number by simply replacing the "A" with a "1" (e.g., A23456789 -> 123456789). The Student ID number also displays on the "My Profile" tile in student.msu.edu.
For employees, the new SIS also assigns a unique system identification number, often called an "EmplID." If you are an MSU alumni, your ID will be your old student ID number. Otherwise, it will be a randomized number automatically assigned. This system ID is used only in SIS and is not the same as a ZPID, which is a separate employee tracking number.